Hello fellow Riftlandians,
Earlier this week Riftland was accused of DDoSing another server. I am apologizing for the misunderstanding. This originally surfaced when he was first hit and a log with Riftland's server IP was in it (seen below). One thing that I didn't realize when I first looked at it was the latency (ms). Latency is something used to measure the delay between sending a packet and receiving a response. After looking this over I realized that he had his game open to the Multi-player tab which as you know pings the server. He was probably pinging his server to see if he would be able to locally connect and in turn pinged Riftland. I also just received an email from Riftland's host clearing the server of any wrongdoing. My investigation is now over and is now in the hands of the authorities to find out who was doing this.
I now personally want to apologize since I was the one who was doing the main part of the investigation as I was the only one that had a stable internet connection. I did not realize this until today when I was speaking to Vince about some stuff regarding this.
Our apologies,
DDSLoan96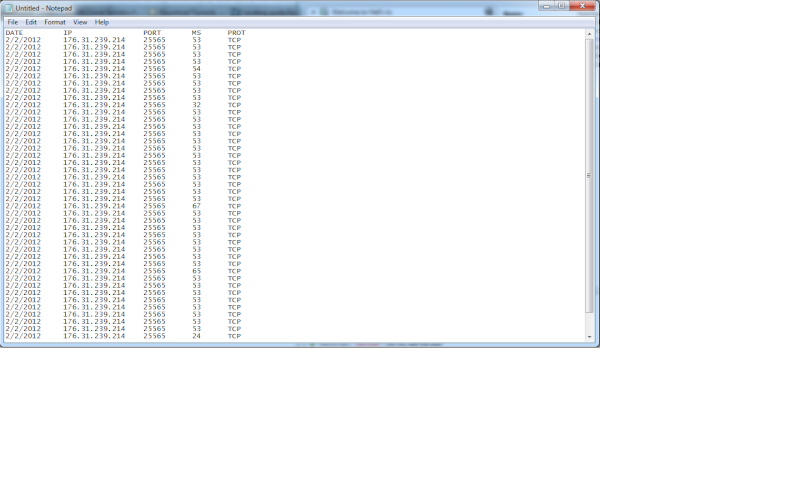 Last edited by DDSLoan96 on Sat Feb 09, 2013 7:58 am; edited 1 time in total



Character Name

: DDSLoan96


Settlement

: Konan


Posts

: 970


Likes

: 18


Join date

: 2012-02-10


Age

: 22


Location

: USA



Community Manager





Character Name

: ClockworkCyborg


Settlement

: CountCockula


Posts

: 937


Likes

: 22


Join date

: 2012-02-28


Age

: 25


Location

: Utah



_________________
Global Moderator





Character Name

: Chell


Settlement

: Konan


Posts

: 494


Likes

: 12


Join date

: 2012-02-21


Age

: 21


Location

: The Moon, looning with Luna



Wow, that picture is a failure. Since when do logs have the name "Untitled"? And also the date is incorrect

_________________
Animated By Me

Riftland Plugin Developer





Character Name

: seifpic


Settlement

: Konan


Posts

: 200


Likes

: 11


Join date

: 2012-07-06


Age

: 106



_________________
Community Manager





Character Name

: ClockworkCyborg


Settlement

: CountCockula


Posts

: 937


Likes

: 22


Join date

: 2012-02-28


Age

: 25


Location

: Utah






Character Name

: DaddyHobbs


Settlement

: Konan


Posts

: 110


Likes

: 2


Join date

: 2012-09-13


Location

: United States of America



seif Its a long story how that happened, if you really want to know message me on skype



Character Name

: DDSLoan96


Settlement

: Konan


Posts

: 970


Likes

: 18


Join date

: 2012-02-10


Age

: 22


Location

: USA




---
Permissions in this forum:
You
cannot
reply to topics in this forum